Redeem on Steam
You will require a 'Steam' account in order to activate this game
Instant delivery
Your game keys will be available immediately.
Authorized Vendor
Games come directly from the game's official publisher.
| | |
| --- | --- |
| Publisher | Sega |
| Developer | Amplitude Studios |
| Platform | Windows |
| Platform | Mac |
| Delivery | Steam |
| Release Date | 17 Aug, 2021 |
| Genres | Strategy |
| Languages | English, French, German, Spanish - Spain, Polish, Russian, Simplified Chinese, Traditional Chinese, Portuguese - Brazil, Korean |
| Features | Single-player, Multi-player, PvP, Online PvP, Steam Achievements, Steam Workshop |
Key Provider Instructions
In order to activate this game, you will require a third-party 'Steam' account. For full details on how to activate please follow this link: https://support.steampowered.com/kb_article.php?ref=5414-TFBN-1352
This product is region locked and can't be activated from: China, Taiwan, Hong Kong, Japan, Democratic People's Republic of Korea, Republic of Korea
Keys are delivered instatly fo this pre order. You can participate in the current pre-order closed beta and play until 21 June.

Description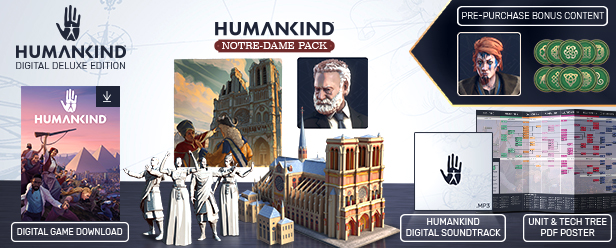 Starting now, you can get the Digital Deluxe edition for 15% off. Here's what's included as a pre-purchase bonus, plus a quick round-up of the Digital Deluxe edition content:
PRE-PURCHASE BONUS CONTENT
- Boudicca Avatar Set - Adds Boudicca Set to customize you Avatar
- Player Profile Pre-Purchase Decoration - Adds an exclusive Decoration to customize your Player Profile
- Player Profile Symbol Set - Adds 10 exclusive Symbols to customize your Player Profile
DIGITAL DELUXE EDITION CONTENT
- HUMANKIND™ Digital Game - HUMANKIND™ base game
- In-Game Notre-Dame Pack
- Notre-Dame Wonder – to be built in game
- Notre-Dame Narrative Events - Adds Narrative Events themed around Wonders such as Notre-Dame
- Victor Hugo Avatar Set - Adds Victor Hugo Set to customize your Avatar
- "Inspirational" Avatar Personality - Adds the "Inspirational" Personality to customize your Avatar
- Official Digital Soundtrack – All HUMANKIND™ tracks created by Arnaud Roy (previously known as FlybyNo) in .mp3 format
- Unit & Tech Tree .pdf - An at-a-glance view of the full Unit & Tech Trees of the game
HUMANKIND™ is a historical strategy game, where you'll be re-writing the entire narrative of human history and combining cultures to create a civilization that's as unique as you are.
CREATE YOUR CIVILIZATION
Combine up to 60 historical cultures as you lead your people from the Ancient to the Modern Age. From humble origins as a Neolithic tribe, transition to the Ancient Era as the Babylonians, become the Classical era Mayans, the Medieval Umayyads, the Early Modern era British, and so on. Each culture will add its own special gameplay layer, leading to near-endless outcomes.
MORE THAN HISTORY, IT'S YOUR STORY
Face historical events, take impactful moral decisions, and make scientific breakthroughs. Discover the natural wonders of the world or build the most remarkable creations of humankind. Each game element is historically authentic. Combine them to build your own vision of the world.
LEAVE YOUR MARK ON THE WORLD
The journey matters more than destination. Fame is a new and unifying victory condition. Every great deed you accomplish, every moral choice you make, every battle won will build your fame and leave a lasting impact on the world. The player with the most fame will win the game. Will you be the one to leave the deepest mark on the world?
MASTER TACTICAL BATTLES ON LAND, SEA & AIR
Each battle in HUMANKIND™ plays out like a mini turn-based board game on top of the actual world map. Unstack your armies and command each of your units, including the emblematic units of your culture and their special abilities. Construct siege weapons to besiege and occupy cities. Fight in large battles spanning multiple turns, and don't hesitate to bring in reinforcements!
CUSTOMIZE YOUR LEADER
In HUMANKIND™, you'll be playing the leader of your society as an avatar that you create and customize! Your avatar will evolve visually over the course of the game as your civilization develops. You'll also be able to level up your leader via a meta-progression system to unlock custom looks that you can showoff to strangers and friends alike in multiplayer matches up to 8 players.
HOW FAR WILL YOU PUSH HUMANKIND?
Minimum Requirements
Requires a 64-bit processor and operating system
Recommended Requirements
Requires a 64-bit processor and operating system
Legal Notice / EULA
©SEGA. All rights reserved. HUMANKIND, the HUMANKIND logo, SEGA and the SEGA logo are either registered trademarks or trademarks of SEGA Holdings Co., Ltd. or its affiliates. SEGA is registered in the U.S. Patent and Trademark Office. GAMES2GETHER, Amplitude Studios and the Amplitude Studios logo are either registered trademarks or trademarks of Amplitude Studios SAS. All other trademarks, logos and copyrights are property of their respective owners.